'Take care of your body. It's the only place you have to live." ~ Jim Rohn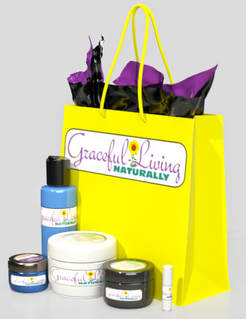 Did you know that the body absorbs 60 percent of what we apply to our skin? Skin is the largest organ in the body and it is porous, so lotion doesn't just sit on your skin, it is absorbed through your skin.

There are more than 80,000 synthetic chemicals in the marketplace, but only a small percentage has ever been tested. Have you looked at the ingredients on your lotions, creams? Can you pronounce them or know what most of the ingredients are? We have and it's scary!

That is how Graceful Living was born! We were tired of not knowing what we were putting on our bodies, and what was going to happen years from now from these chemicals.

Graceful Living products are 100% Natural, which leaves your skin looking and feeling beautiful! Our products are made in small batches to ensure quality and have only ingredients that you can pronounce and recognize. Try our products today.... You'll be happy you did!
Click on the link below to see the ingredients in our Anti Aging Face Cream and what each ingredients does for your skin!

---

Essential Oils

Ganoderma Coffee
Ganoderma Coffee - Changing Lives One Sip at a Time!™Our Ganoderma Coffee company offers healthy, affordable and great tasting beverages that containing Reishi, also known as Ganoderma Lucidum or Lingzhi. Ganoderma has over 2000 years of documented history validating that Ganoderma Lucidum is the "Miraculous King of Herbs". Read more on the About Ganoderma Coffee page of this website.
Click the button below to see more and purchase the "Healthy Coffee"

We look forward to you trying our incredibly tasty and powerful Ganoderma Coffee products for yourself.